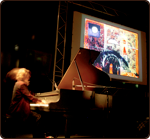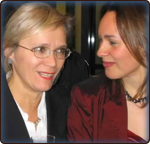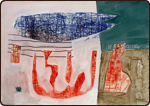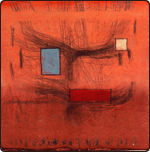 Sight & Sound Excerpts
…. Short cuts from Sight & Sound live Performance
Sight & Sound
Color is sound, sound is color. The dramatic paintings of artist Ade Frey are projected on screen during the concert, providing a visceral response to Ms. Ulex's performance of music by Modest Mussorgky's "Pictures at an Exhibition", Schumann and Villa Lobos. Inspired by the music performed by pianist Evelyn Ulex, Ade Frey created her paintings. While she listened to Evelyn Ulex highly expressive interpretations, Ade Frey made associations to the musical structure, rhythmical movements, and sound; modifying and expressing the musical colors she hears.
Ade Frey, artist
Ade Frey born in Schwäbisch Gmünd, in southern Germany. After her education, she moved to Berlin in 1972, where she studied Color and Interior Design at the University of arts, where she received her degree as a professional designer. After employing her interior design talent, she went on to study painting. She was a master student of the renowned Professor Herbert Kaufmann; within no time at all her works were showcased at solo exhibitions in private galleries, public institutions and art fairs.
As a member of the GEDOK (Organization of German and Austrian Female Artists) she contributed with many art projects such as Berlin-Europa at the Verborgenen Museum, Tafelbilder aus den 90er Jahren at the St. Matthäus-church at Kemper Plaza, Berlin, Paper Becomes Art at the Gallery of the House of Parliament in Berlin, and Realization at the Old Town Hall in Potsdam. For a number of years Ms. Frey has been fascinated with the intangible quality of music, which inspired her to develop concepts about the relationship between music and art.
The Sight and Sound project, in collaboration with pianist Evelyn Ulex, focuses mainly on Mussorgsky s Pictures at an Exhibition, which is thematically and musically uniquely suited for this coalescence of the two art forms. The Sight and Sound exhibition has been performed very successfully in many venues, such as the German Consulate General in New York City, at the German Consulate in Vancouver, at the Nikolai Hall in Potsdam, among others.
Among her other artistic accomplishments is the founding of the Art studio Frey, an art school for children and teenagers in Berlin; the development of interdisciplinary art and music projects for children and teenagers, in collaboration with the violinist Peter Rainer. A Musical Construction Place project, at the Roman Baths at the Park of Sanssouci in Potsdam; and as well, A Room With Music Notes (concert-workshop for children and their parents) in collaboration with the Chamber Academy Potsdam at the Nikolai Hall in Potsdam.
Program
Robert Schumann
Faschingsschwank op. 26, Allegro
Claude Debussy
L isle joyeuse / Isle of joy
Heitor Villa-Lobos
Valsa da Dor,
Alma Brasileira Chorus No.5
Modest Mussorgsky
Pictures at an Exhibition